Jurassic World: Dominion Dominates Fandom Wikis - The Loop
Play Sound
"You'll howl! A werewolf stalks the grounds of a resort hotel. but he's not the only creature on the prowl!"
-- DVD description for the episode
Plot
[
]
An Agatha Christie-style mystery sees the inhabitants of a remote hotel terrorized by rumors of a werewolf prowling the area. Not to fear, as a self-appointed werewolf hunter is amongst them. But might he have a dark secret of his own?
Opening Segment
[
]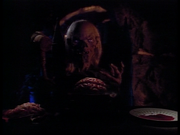 "This is your brain. This is your brain on drugs.
[places the brain on a frying pan as it then cuts to another brain on a plate]
And this is your brain after watching "Tales from the Crypt."
[strikes the brain with the hammer as it pans up to show the Crypt Keeper]
Evening creeps. We interrupt your regularly scheduled terrorvision program to bring you a bit of culture. That's right kiddies. Tonight instead of rotting your grave matter, I'm going to improve it with a tasteful tale about someone who just can't fright the feeling. I call it Werewolf Concerto."
Closing Segment
[
]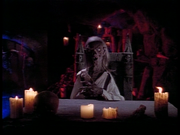 "Poor Lokai. Thought he was starring in "La Bohème", turns out he was second lead in "Romeo and Ghouliet." I hope you're not cultured out kiddies because the next part of our program is a little part that I've been working on. I hope you like the goreography. Whenever you're ready, Isadora!
[throws the skeleton girl where it it lands with a crunch]
Mmm... I guess it's back to the corpse du ballet for her."
Trivia
[
]
Reunites Bond actors Timothy Dalton and Walter Gotell, who played Bond and General Gogol in The Living Daylights (1987). They shared no scenes in that film, due to Gotell being in poor health. Here, they are hero and adversary.
There are several subtle hints to James Bond in this episode (Timothy Dalton was still James Bond at the time this episode was made, though he later resigned the role in 1994). First, Dalton's character Lokai wears a Rolex Submariner, which was his Bond's watch of choice in "Licence to Kill". Dalton also takes a Walther PPK from Mr. Hertz (Bond's gun of choice) during the episode. Lokai is good at games, as is Bond, as evidenced by the fact he's relaxing on money he won off of Carl. And during the showdown, Hertz taunts Lokai by saying Carl liked to play games. Lokai replies "That's the difference between Carl and me...I never lose." This echos Connery's response to Largo in "Never Say Never Again." "Do you lose as gracefully as you win?" "I wouldn't know. I've never lost."
Gallery
[
]
Rating
[
]