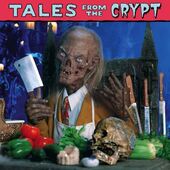 Tomb it may concern. Yes,
you
. No one else is reading this, right? Besides, you're the ideal person for this happily haunted collection of scares and silliness - someone warm and bleeding. Sorry,
breathing
.
The Crypt Keeper delivers more keepers with this atmosfearic Season 5. Ready to delight your feverishly warped mind are Forever Ambergris with Steve Buscemi and Roger Dalton portraying war photographers; Two For the Show with Traci Lords, David Paymer and Vincent Spano embroiled in a tale of wife and death; Well Cooked Hams with Martin Sheen and Billy Zane putting hocus pocus in focus as rival magicians; plus 10 more eerie encounters of fate, fiends, and flat-out funniness. Lullaby and good friend, kiddies!
Episodes