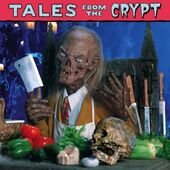 Tomb it may concern. Yes, you. No one else is reading this, right? Besides, you're the ideal person for this happily haunted collection of scares and silliness - someone warm and bleeding. Sorry, breathing.
The Crypt Keeper delivers more keepers with this atmosfearic Season 5. Ready to delight your feverishly warped mind are Forever Ambergris with Steve Buscemi and Roger Dalton portraying war photographers; Two For the Show with Traci Lords, David Paymer and Vincent Spano embroiled in a tale of wife and death; Well Cooked Hams with Martin Sheen and Billy Zane putting hocus pocus in focus as rival magicians; plus 10 more eerie encounters of fate, fiends, and flat-out funniness. Lullaby and good friend, kiddies!
Episodes
[
]
#
Image
Title
Airdate
01
Death of Some Salesmen
October 2, 1993
A sneaky cemetery plot salesman has a talent for ripping off people after he sells them phony cemetery plots. When he finds new victims, he soon learns they have a fortune buried in their cellar, but he never counted on their hatred for salesmen.
02
As Ye Sow
October 2, 1993
Thinking his wife is cheating on him, a jealous husband hires a detective and is lead to believe she is having an affair with the local priest.
03
Forever Ambergris
October 2, 1993
After playing second fiddle to an up-and-coming photographer, a seasoned but washed-up combat photographer cooks up a deadly scheme to take him out and get his gorgeous wife.
04
Food For Thought
October 6, 1993
A heartless freakshow clown , being taught how to read minds by his beautiful mind-reading wife, goes off the deep end when he finds out she is in love with the show's fire-eater.
05
People Who Live in Brass Hearses
October 13, 1993
A smalltime criminal with the help of his slow-witted brother is out for revenge on the town's ice cream man who sent him to prison years earlier. When they attempt to rob the ice cream warehouse they end up getting a double scoop of surprise.
06
Two For the Show
October 20, 1993
A game of cat and mouse takes place on a train between a murdering husband and a curious cop who seemingly isn't without his own marital troubles.
07
House of Horror
October 27, 1993
Fraternity pledges are challenged to get to the top floor of a "haunted" house as frat brothers and sorority girls watch from outside, but strange things happen as each pledge attempt to make their way up.
08
Well Cooked Hams
November 3, 1993
After murdering his mentor, an untalented magician seeks something new to spice up his act, when he comes across "The Box Of Death" he finds out the true meaning of its name first hand.
09
Creep Course
November 10, 1993
A young bookworm is tricked by the school jock and their Egyptologist professor into becoming a virgin sacrifice for a long preserved mummy.
10
Came the Dawn
November 17, 1993
A seemingly timid man picks up a suspicious female hitchhiker and takes her to his cabin where she discovers there's more to him than meets the eye.
11
Oil's Well That Ends Well
November 24, 1993
A con artist and his girlfriend plan their next caper by tricking some southern boys into thinking there is oil underneath a cemetery.
12
Half-Way Horrible
December 1, 1993
A murderous two-faced businessman about to debut a new preservative discovers that all his key partners are being murdered and the killer may be closer to him than he thinks.
13
Till Death Do We Part
December 8, 1993
A young stud involved with a female mob boss begins an affair with a young waitress and when he gets caught and is ordered to kill her, all may or may not be what it seems to be.