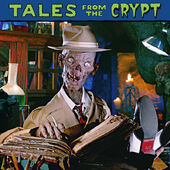 Monsters, Madness, Mayhem. BAD PUNS! What kind of bonehead would do this? Oh, that kind of bonehead the Crypt Keeper!

Yes, four the beast in humor and horror, this is it; all 14 complete, uncut Season 4 episodes hosted by that netherworld naughty boy, the Crypt Keeper. Offered four your warped amusement are Split Personality, with a lounge lizard getting more than he bargains four when he marries identical twins; Werewolf Concerto with Timothy Dalton on the hunt four a lupine fiend; Beauty Rest with Mimi Rogers as an actress who'd kill four a part. Plus Brad Pitt, Treat Williams, Cathy Moriarty and other starry surprises are here four more fright-n-fun tales. Did we mention these are all in season 4? Go four it!
Episodes
[
]
#
Image
Title
Airdate
01
None But the Lonely Heart
June 27, 1992
A scheming con man marries a wealthy elderly women to collect the insurance benefits but soon finds out their love for him will never die.
02
This'll Kill Ya
June 27, 1992
When he gets injected with an experimental untested "H-Cell" serum, a cocky scientist believes he's been murdered and double crossed by his two business partners.
03
On a Deadman's Chest
June 27, 1992
A disruptive rocker who despises his bandmate's new wife, receives a tattoo that looks exactly like her, so now not only does the woman he hate get under his skin but is now on it as well.
04
Seance
July 4, 1992
Two con artists attempt to setup a rich tycoon but when he dies they stage a fake seance to muster the remaining money from his spiritual believing widow.
05
Beauty Rest
July 11, 1992
An aging down-on-her-luck model resorts to murder to get ahead and poses as her roommate to garner a beauty pageant spot that she's guaranteed to win.
06
What's Cookin'
July 22, 1992
A couple's failing restaurant gets a huge boost when a drifter gives them a steak recipe to die for.
07
The New Arrival
July 25, 1992
To boost his troubled ratings, an arrogant radio child psychologist decides to do a series of shows from the home of a mother with the ultimate problem child.
08
Showdown
August 1, 1992
After adding a Texas Ranger to his many kills, a remorseless gunslinger begins to be haunted by the spirits of all his past victims.
09
King of the Road
August 8, 1992
A cocky drag racer brings a police officer and former king of the road, back in the race when he kidnaps his daughter.
10
Maniac at Large
August 19, 1992
A shy library clerk is obsessed with a serial killer fearing that she will be the next victim.
11
Split Personality
August 26, 1992
A despicable con man concocts a scheme to marry some reclusive twins to inherit their fortune by creating a "twin" himself.
12
Strung Along
September 2, 1992
A game of deception ensues when a golden age puppeteer with a dominant wife is given a chance to revive his act for a tribute show and takes on a new animatronic wiz as his new assistant.
13
Werewolf Concerto
September 9, 1992
A group of guests at a secluded resort suspect that one of them may be a murderous werewolf.
14
Curiosity Killed
September 16, 1992
A man asks his friend to keep a youth potion away from his wife. When she suspects that they are trying to kill her, she kills them first and drinks the potion which she had switched. But she soon regrets it.