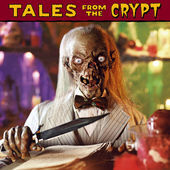 What's sinew, weirdos? All of you who say "This fabulous third season collection of Tales From the Crypt" go to the head of the crass. And take your best fiend with you!
Yes, that die-abolical punster and bone-a-fide ghoul of your dreams the Crypt Keeper is back to host this scare-rific collection of all 14 complete and uncut episodes from season 3 of the series that ran seven memorably spooktacular seasons. Among the tales spilling out of the vault are Loved to Death, with Mariel Hemingway as a woman zapped by a love potion; Top Billing starring Jon Lovitz as a struggling actor who'll do anything for a part; and Dead Wait with Whoopi Goldberg as an occult priestess who knows who do that voodoo. Doo yourself a favor and dig into this merrily macabre mix.
Episodes
[
]
#
Image
Title
Airdate
01
Loved to Death
June 15, 1991
A writer falls for his next door neighbor even though she won't give him the time of day. When his mysterious landlord gives him a potion to make her fall in love with him, she becomes a tad clingy.
02
Carrion Death
June 15, 1991
An escaped con running for the Mexican border ends up killing a state trooper but in the process gets cuffed to him and has to drag the corpse across the desert to freedom.
03
The Trap
June 15, 1991
With the help of his wife and brother , a financial loser fakes his own death to get out of debt.
04
Abra Cadaver
June 19, 1991
A respected doctor's career is ended when his med school brother plays a practical joke on him giving him a heart attack. Twelve years later, he exacts revenge when he uses his brother, now a doctor, as a guinea pig for his life after death experiment.
05
Top Billing
June 26, 1991
A desperate out of work actor accused of not "having the look", auditions for an unusual off-off-Broadway production of Hamlet and resorts to anything to get the part.
06
Dead Wait
July 3, 1991
On a war filled tropical island, a low life con man sets out to retrieve a precious black pearl belonging to a ailing millionaire.
07
The Reluctant Vampire
July 10, 1991
A squeamish vampire satisfies his bloodlust by working as a night watchman at a blood bank, but the owner soon realizes his business is being sucked dry so the vampire has no choice but to begin killing real victims.
08
Easel Kill Ya
July 17, 1991
A struggling artist finds unlikely inspiration when he begins to capture the brutality of murder in his paintings.
09
Undertaking Palor
July 24, 1991
A fiendish scheme by the town's undertaker and pharmacist to poison townspeople and benefit from the funerals is thwarted by a group of kids with a talent for video taping.
10
Mournin' Mess
July 31, 1991
An alcoholic down-on-his-luck report er investigating several homeless murders discovers they may be related to the organization, "Grateful Homeless Outcasts and Unwanted Layaway Society".
11
Split Second
August 7, 1991
Looking for a little security and excitement, A sleazy barmaid marries a once gentle lumberjack and brings him over the edge when she becomes bored and seeks out love from one of his employees.
12
Deadline
August 14, 1991
An alcoholic down-on-his-luck reporter meets a beautiful woman and seemingly cleans up his act but when he stumbles upon a homicide story to put him back on the front page it all leads back to his new found love.
13
Spoiled
August 21, 1991
A soap opera loving housewife bored by her scientist husband always working on his top secret experiments, begins an affair with the cable guy but she doesn't count on her husband making them part of his experiment.
14
Yellow
August 28, 1991
After causing the deaths of several of his troops, a spineless son of a WWI general is accused of cowardice.