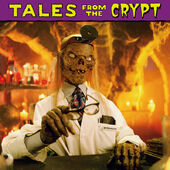 Welcome fiends. Back for more deadtime stories, hmm? Then settle in with these devious die-monds of die-abolical delight - all uncut (but variously stabbed, electro-volted, haunted, twisted, incarcerated, incarnated, voodoo-ized and even vampirized) episodes from two-riffic Season 2 of Tales From the Crypt!
The Crypt Keeper is again your gleefully macabre host for a frightfest of classic E.C. Comics stories involving a for the money honey (Demi Moore) hoping for a big, fat inheritance; a cartoonist (Harry Anderson) whose creations come to life (and death); a ventriloquist (Don Rickles) and an idolizing wannabe (Bobcat Goldthwait) and poker players for whom a losing hand could mean exactly that. Ante up for these and more tales. We think you'll agree they're absolute monsterpieces.
Episodes
Edit
Community content is available under
CC-BY-SA
unless otherwise noted.