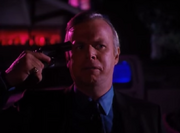 Sam Forney is a hardcore gambler in the episode "Cutting Cards".
Early Life
Edit
Sam is a hardcore gambler dressed like a businessman. He had a mortal rivality with Reno Crevice. The two men decide together to play one against other for the last time under condition than the loser never returns. However, both men each are fortunate when they play dice then in the Russian roulette.
Also, they decide to playing a poker 'cutting cards' game where the loser has to be cut fingers with butcher's knife by the winner. Later, Crevice and Forney end up in hospital where in spite of the hands and cut feet, they continue their bet by playing checkers with their chin.
Behind the Scenes
Edit