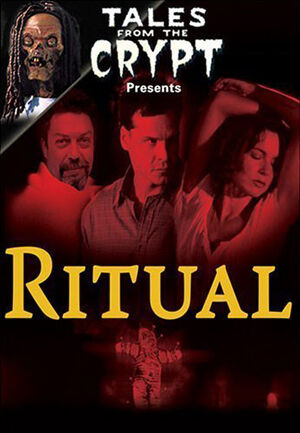 Tales from the Crypt Presents: Ritual is the third and final film spin-off from the HBO television series Tales from the Crypt, the first being Demon Knight and the second being Bordello of Blood. The film was released in 2002 and stars Tim Curry, Jennifer Grey, and Craig Sheffer with Avi Nesher directing.[1] and is based on the film I Walked With a Zombie.[2] It is to date, the last production of the Tales From the Crypt franchise.
Dr. Alice Dodgson (Jennifer Grey) gets her medical license revoked and is fired from her job after the death of a patient. After being fearful of a patient's words of voodoo cults, she travels to Jamaica. There, she realizes that she, and her patient Wesley Claybourne (Daniel Lapaine), are the targets of a voodoo cult.[3]
A third Crypt movie was planned on the release of Bordello, but due to the low box office take in on the film, references to the Tales from the Crypt franchise were removed until the DVD release.[4]
This movie, originally released for foreign countries in 2001. It was also released in Japan on January 25, 2006. It was not released in the United States and Canada until May 2, 2006 on DVD.[5]
It was received mixed, garnishing a 44% fresh rating on Rotten Tomatoes.[6]
Community content is available under
CC-BY-SA
unless otherwise noted.