m

 

(13 intermediate revisions by 2 users not shown)
Line 1:
Line 1:
−

'''Report From The Grave''' is the 8th episode of the 7th and Final Season of ''Tales from the Crypt'' and the 88th episode [[File:Report_From_The_Grave_-_1.png|thumb|312px]]overall of the series. It debuted on HBO on June, 14th, 1996.

 
 
 
 
+

''"And you thought there was a lack of scientific creativity. A man invents a way to read memories of the dead."''

⚫
 
 
+
 
+

<blockquote>-- DVD description for the episode</blockquote>{{Episode_V2|image1 = Report-From-the-Grave-tales-from-the-crypt-41326371-720-540.png|season = [[Season 7|7]]|episode = 8|airdate = June 14th, 1996|comic_source = Vault of Horror #15|previous_episode = [[The Kidnapper]]|next_episode = [[Smoke Wrings]]}}'''''Report from the Grave''''' is the eighth episode of the seventh season of Tales from the Crypt and the eighty-eighth episode overall. The episode aired on June 14th, 1996.

 
 
 

== Plot ==

 

== Plot ==

 
+

A scientist named [[Elliot]] (James Frain) invents a way to read memories of the dead. To test the device, Elliot and his girlfriend [[Arianne]] break into the crypt of a dead serial killer.

 
+
 
⚫
 
+

''[[File:Reportopening.png|thumb|left]]"Greetings, hack-riculture fans. I'll be with you in a moment. I've just got to finish with the Artie-chokes."''

 
+
 
+

'''''[Crypt Keeper chokes a man]'''''

 
+
 
+

''"Come on, Artie, die already. Now, a little water and some fear-tilizer, and before you know it, I'll be horror-vesting my own field of screams. You didn't know your pal the Crypt Keeper had a green thumb, did you? Well, I do. And the rest of me is pretty damn moldy, too. Which brings to mind tonight's tale. It's about a scientist who's a bit of a scare-cropper himself. I call this one "Report From the Grave."''

 
 
 

== Closing Segment ==

 

== Closing Segment ==

 
+

''[[File:Reportclosing.png|thumb]]"Poor Elliot. Thought his field was physics. Turned out it was die-olgy and that's not the worst of it. Elliot only read the first part of Tymrak's book, where he tied up Arianne. If Elliot had read a little futher, he would have seen Tymrak's chop-ter two! I've got to get back to my planting. I've already sown the scare-its and the terror-nips, which means I have got just one more crop to put in."''

 
+
 
+

'''''[camera pans to show a mans face sticking out of the dirt]'''''

 
+
 
+

''"Squash!"''

 
+
 
+

'''''[Crypt Keeper stomps the head deeper into the ground]'''''

 
+
 
+

''"Squash!"''

 
+
 
+

== Trivia ==

 
+

* This episode was referenced in House on Haunted Hill (1999).

 
+
 
+

== Gallery ==

 
+
 
+
 
+

<gallery>

 
+

MV5BYzA4OWVkODgtNjdiNy00MzAzLThiMmYtMDk5YzZlNTE4YjE5XkEyXkFqcGdeQXVyODI0NDgwNjA@._V1_SY999_CR0,0,681,999_AL_.jpg|Mike Vosburg's comic cover

 
+

vlcsnap-00415.png|Elliot

 
+

vlcsnap-00417.png|Arianne

 
+

vlcsnap-00419.png

 
+

vlcsnap-00422.png

 
+

vlcsnap-00428.png

 
+

vlcsnap-00414.png

 
+

vlcsnap-00413.png

 
+

</gallery>

 
+
 
+

== Rating ==

 
+

<poll>

 
+

Rate Report

 
+

⭐

 
+

⭐⭐

 
+

⭐⭐⭐

 
+

⭐⭐⭐⭐

 
+

⭐⭐⭐⭐⭐

 
+

</poll>

 

[[Category:Tales from the Crypt Season 7 episodes]]

 

[[Category:Tales from the Crypt Season 7 episodes]]

 
+

[[Category:Episodes]]
---
Latest revision as of 04:16, 15 August 2020
"And you thought there was a lack of scientific creativity. A man invents a way to read memories of the dead."
-- DVD description for the episode
Report from the Grave is the eighth episode of the seventh season of Tales from the Crypt and the eighty-eighth episode overall. The episode aired on June 14th, 1996.
A scientist named Elliot (James Frain) invents a way to read memories of the dead. To test the device, Elliot and his girlfriend Arianne break into the crypt of a dead serial killer.
"Greetings, hack-riculture fans. I'll be with you in a moment. I've just got to finish with the Artie-chokes."
[Crypt Keeper chokes a man]
"Come on, Artie, die already. Now, a little water and some fear-tilizer, and before you know it, I'll be horror-vesting my own field of screams. You didn't know your pal the Crypt Keeper had a green thumb, did you? Well, I do. And the rest of me is pretty damn moldy, too. Which brings to mind tonight's tale. It's about a scientist who's a bit of a scare-cropper himself. I call this one "Report From the Grave."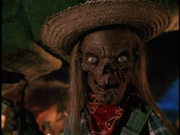 "Poor Elliot. Thought his field was physics. Turned out it was die-olgy and that's not the worst of it. Elliot only read the first part of Tymrak's book, where he tied up Arianne. If Elliot had read a little futher, he would have seen Tymrak's chop-ter two! I've got to get back to my planting. I've already sown the scare-its and the terror-nips, which means I have got just one more crop to put in."
[camera pans to show a mans face sticking out of the dirt]
"Squash!"
[Crypt Keeper stomps the head deeper into the ground]
"Squash!"
This episode was referenced in House on Haunted Hill (1999).
Community content is available under
CC-BY-SA
unless otherwise noted.