"Imagine a tattoo that seems to have a life of its own. Ok, instead of imagining, watch this!"
-- DVD description for the episode
Plot
[
]
A rock star (Yul Vazquez) gets an unwanted chest tattoo from a mysterious artist (Heavy D) of his guitarist's wife that he hates (Tia Carrere), which seems to have a life of its own and won't go away even after he murders the object of his hatred.
After he killed her and the tattoo, the guitarist confronted him only to see his chest cut open and claiming he killed her twice. The guitarist saw that he is now insane and slowly bleeding to death after his chest is cut open. This causes the band to be disbanded.
Also starring Sherrie Rose as the rock star's groupie, with special appearances by musicians Gregg Allman (as the club owner), Rudy Sarzo (uncredited as Exorcist's bass player), and Steve Jones (as Exorcist's roadie).
Opening Segment
[
]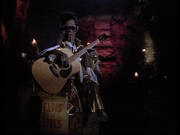 "Be cool. Greetings poison girls. Are you ready to rock and roll? Good. Then slip into your gore jacket and prepare to sing along. Can't carry a tomb? That's okay. I'm just playing by ear myself. Tonight's terror tune concerns a young headbanger who lets a woman get a little too far under his skin. I call this decomposition On a Deadman's Chest."
Closing Segment
[
]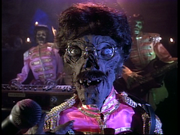 "Well, Nick might have been the groups guitarist but Danny turned out to be the real ax man. Still, you've got to like where the band is going. Any day now they'll be appearing on America's chop fourty. So till next time kiddies, me and my gorage band have got to jam. You know what they say, you're never too cold to rock 'n roll."
Trivia
[
]
The title is a line from the sea shanty "Dead Man's Chest" ("Fifteen Men On A Dead Man's Chest") from Robert Louis Stevenson's novel Treasure Island (1883) and used in pirate stories and movies ever since.
As an obvious in-joke, the name of the fictional rock band is Exorcist and the episode was directed by William Friedkin whose most popular film is "The Exorcist".
Sherrie Rose, who plays one of the groupies, also stars in episode Only Skin Deep.
Gallery
[
]
Rating
[
]