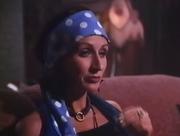 Madame Vorma is a medium in the episode "Dead Right".
Early Life
Edit
Madame Vorma was a russian and eccentric medium living with her dog named Trotsky. One of her clients was the arrogant Cathy whom she predicted that she will be fired of her job for to find a best job. Cathy don't believe it and think the medium was only a swindler. Ironically, Cathy was effectly fired by her boss for her delay. A hour later, she was recruted in a hostess bar. Believing the medium, she recontact the medium who predicted her many money and before it, a wedding with a unfortunate and fat man who is going to inherit from an immense fortune after the death of a close being and that he is going to die later. She adds that she is going to meet him same evening. Horribly disgusted by Charlie Marno, Cathy contact the medium who remembered her his futur death and his fortune. Three month later after her wedding, Cathy return to visit Madame Vorma for explication if the destiny was erroned because thold fortunate uncle of Charlie had a direct family for to transmet his fortune. Cathy don't believe it and think the medium was only a swindler. The medium insist that her prediction was real.Ironically, Cathyshe wins a colossal check by going to a supermarket and determinate to divorced, she demonstrate her real face by insulting Charlie. Sincerely saddened and blessed by the young woman, Charlie become psychotic and stab her with a butcher knife. During his arrestation, Charlie herit from the fortune of her deceased wife and die electrocuted by the penitentiary electric chair. Madame Vorma watches the execution at her TV, commentsin that her predictions are always real.
Cathy arrogant enter Madama Berma
Edit
Behind the Scenes
Edit
She was portrayed by Natalija Nogulich.