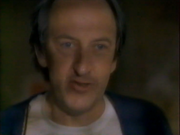 Joe is an antique dealer and a voodoo sorcerer in the episode "Only Sin Deep".
Early LifeEdit
Joe had studied black magic as a means to take and preserve beauty. He had been married to a very beautiful woman whose death he never got over. He also owned and managed a pawn shop. One of his clients was Sylvia Vane. She tried to pawn some stolen jewelry, but he declined, accusing her of trying to move hot items (which was true). He then struck a deal with Silvia with something she legitimately had, her beauty. He used voodoo to take her beauty as collateral, giving her a lot of cash in return. She would have four months to repay, or else she would rapidly degenerate into an old lady.
Behind the ScenesEdit
Joe was portrayed by Britt Leach.
Britt Leach was a guest star in Fame with Cynthia Gibb (Lorelei Phelps). Others guests-star are Gerrit Graham (Theodore Carne), Diane Cary (Hostess (Cutting Cards)), Abel Franco (Bushmill) and Bruno Kirby (Billy Paloma).
He was also a guest star in Dallas with Gerrit Graham (Theodore Carne), Kathleen York (Coralee), Burke Byrne (Mack), Matthew Faison (Doctor (Only Sin Deep)), Troy Evans (Al), Earl Boen (Mr. Clayton), J. Patrick McNamara (Thorne), Paul Lieber (Alan), Don Hood (Sebastian Fleming), Chelcie Ross (George Yates), Teddy Wilson (Clyde), Colleen Camp (Mildred Korman), Abel Franco (Bushmill), Lewis Arquette (Ernest Feeley), Stefan Gierasch (Mr. Sickles), Kenneth White (Sheriff), Dorothy Parke (Sam), Mike Simmrin (Theodore) and William Franfather (Mr. Colbert).