"A biz exec wants to market a preservative that keeps food from spoiling forever. Hmm. Maybe food's not the only thing that won't perish."
-- DVD description for the episode
Roger Lassen is the owner of a large chemical company who is summoned by the police to identify the body of a business associate. Identifying the corpse brings back memories of a sinister deal made several years previously in the Brazilian Rainforest, which secured his future success. But as he soon discovers, he's going to pay the price for his single minded greed and ambition. One which involves revenge from beyond the grave.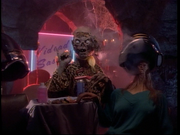 "Ooh, I just love how your hair has groan out! A little scream rinse and conditioner, and it'll look fa-boo! If you don't look dead, we don't look dead. Oh, hello, kiddies! You're right on time for your appointment. You know, it was always one of my ghouls in death to open my own scare salon. Now, let's see...a few shrieks in your hair would look good. A boo-faunt would look even better! Or maybe you'd like to try tonight's die-fashion statement. It's a nasty nugget that asks the question, zom-bie or not zom-bie. I call it Halfway Horrible."
"Well, at least in the end, Roger knew rot from wrong. If only he learned a little fester. You'll be happy to know, kiddies, that our story has a happy ending. Roger's company did very well. Its shares shot up...on the New York shock exchange! So, have we made up our minds? You want bangs? Perfect. I have just the thing. (Laughs)"
[Crypt Keeper pulls out a fake gun and shoots]
"Bang!" (Laughs)
Community content is available under
CC-BY-SA
unless otherwise noted.