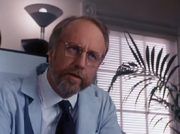 Dr. Thorne was a doctor specialized into plastic surgeon in the episode "The Switch".
Early Life
Edit
Determined to erase his old age for to live with Linda, Carlton Webster contact Dr.Thorne, specialized into plastic surgeon. However, his demand was surrealistic for the doctor who gide him to another mad doctor reputated for illegal operation.
Behind the Scenes
Edit
He was portrayed by J. Patrick McNamara.
J. Patrick McNamara was a guest star in Dallas with Gerrit Graham (Theodore Carne), Kathleen York (Coralee), Britt Leach (Joe (Pawnbroker)), Burke Byrne (Mack), Matthew Faison (Doctor (Only Sin Deep)), Troy Evans (Al), Earl Boen (Mr. Clayton), Paul Lieber (Alan), Don Hood (Sebastian Fleming), Chelcie Ross (George Yates), Teddy Wilson (Clyde), Colleen Camp (Mildred Korman), Abel Franco (Bushmill), Lewis Arquette (Ernest Feeley), Stefan Gierasch (Mr. Sickles), Kenneth White (Sheriff), Dorothy Parke (Sam), Mike Simmrin (Theodore) and William Franfather (Mr. Colbert).