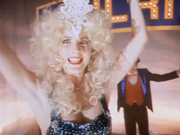 Coralee is a circus artist in the episode "Dig That Cat... He's Real Gone".
Early Life
Edit
Coralee was a circus artist. Impressioned by Ulric'abilitie to ressurect after a fatal death, she becomes quickly his own assistant and his mistress.
Determined to obtain money only for her, she stabbed Ulric with a knife before to left the circus. However, Ulric was not dead and choose don't purchasing her, considering she was cupid, self-absorbed and vain.
Behind the Scenes
Edit
She was portrayed by Kathleen York.
She was also a guest star in Dallas with Gerrit Graham (Theodore Carne), Britt Leach (Joe (Pawnbroker)), Burke Byrne (Mack), Matthew Faison (Doctor (Only Sin Deep)), Troy Evans (Al), Earl Boen (Mr. Clayton), J. Patrick McNamara (Thorne), Paul Lieber (Alan), Don Hood (Sebastian Fleming), Chelcie Ross (George Yates), Teddy Wilson (Clyde), Colleen Camp (Mildred Korman), Abel Franco (Bushmill), Lewis Arquette (Ernest Feeley), Stefan Gierasch (Mr. Sickles), Kenneth White (Sheriff), Dorothy Parke (Sam), Mike Simmrin (Theodore) and William Franfather (Mr. Colbert).
Later, Kathleen York was a regular Guest-Star on Desperate Housewives featuring Teri Hatcher (Stacy) and Kyle MacLachlan (Earl Raymond Digs). Miguel Ferrer (Mitch Bruckner), Brett Cullen (Ronnie Price), Ian Abercrombie (Fulton), Michael Ironside (Jerry), Brian Kerwin (Donald) and Carlos Lacamara (Paolo) will be also guest star in the show.