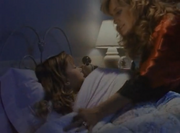 Carrie_Ann Kamen is a little girl in the episode "With a poker the Christmas Eve".
Early Life
Edit
Carrie-Ann Kamen was Elizabeth Kamen's daughter, living with her and her second husband Joseph.
During the night of Christmas Eve 89'. Carrie-Ann believe to Santa Claus and was impatient to see him. Elizabeth lines her by leaving the open window after to kill her husband. Santa Claus join Carrie-Ann's bedroom with a ladder. Believing her daughter kidnapped by 'Santa Claus', she hears her voice(vote) coming from the lounge room. Enchanted to see her daughter living, she become insane to see that she was accompagned by 'Santa Claus'. According to The CryptKeeper, Elizabeth was cut in several pieces and Carrie-Ann spared because 'Santa Claus' don't kill the children.
Behind the Scenes
Edit