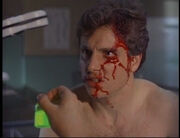 Carl Fairbanks was a doctor and Martin Fairbanks' brother in the episode "Abra Cadaver".
Early Life
Edit
Carl Fairbanks was a opportunist surgeon doctor and work with his brother Martin Fairbanks). This last theorize that the brain is functionnal when a person died. He was also in conflict with his brother for his doubtful ethics. The night of his birthday into 70's, the two guys analyses bodies and argues on it...until that two bodies wake up. However, it was just a joke organized by Carl, his girlfriend Paula and their colleagues for organize him a surprise birthday. A surprise who provoke him a cardiac crisis. However, he survived. Into 90's, the brotherly relation became toxic. Martin is angry by the joke who provokate a paraplegic hand, become alcoholic, workin like laboratory analyst, depensing money subvention for endorphin research and refuses a post to become a professor. Angry by his refusal to be helped, Carl confronts him. Martin reminds him a common journey to Haiti which Carl had paid for once and shows him that he spent subsidies to buy occult objects serving for a voodoo rite named " The Death ". Shocked by his adness and considering his debt for his brother was paid, Carl wants to fired him. However, he succumbs to a cardiac arrest, because of a poison into his glass by Martin. Martin express his resentment and inject him a product. His theory function. Clinically dead, Carl had faculty to think and to see his environments. Also, Martin takes the body to the Faculty of Medicine alongside Mitch and announce to his brother used him for organ collect suspending him from a hook in a cold room, at his horror. The next morning, Mitch proceed to embodiement on Carl for an anatomic exposed by Martin, who apparently, had decided to become professor. Day lesson is focuded on brain dissection. Strangely, Carl ressent his hand move while he see his own blood on his eyes. Carl resurrect well-alive. Martin revelate that it was joke, a false death simulated and generated by the real injected product that he created, named The Extendor who alloved Carl to live this experiment for a few hours.
However, the joke become realist when Carl, really shocked, succombed to a real cardiac arrest and finish to be really dissected to his horror.
Behind the Scenes
Edit
He was portrayed by Tony Goldwin.
Tony Goldwyn was very known for to portray Carl Bruner into the movie Ghost, alongside Demi Moore (Cathy Marno) and Whoopi Goldberg (Peligre). Ironically, he lives in this episode, a similar experience to Patrick Swayze.
Community content is available under
CC-BY-SA
unless otherwise noted.