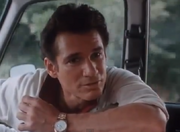 Alan is Richard's best friend in the episode "Three's a Crowd".
Early Life
Edit
Alan was a rich bussinesman, the best friend and wedding witness of Della and Richard. However, Richard was persuaded that Della had a liaison, evidenced by her multiple presents offered by Alan. Richard and Della enjoy their wedding anniversary organized by Alan in a chalet. However, his jalousy was amplified under the impression that Della flirt with Alan and seem to planned their divorce for to live with Alan. Drinking even more that usually, he becomes crazy furious.
Searching him for a surprise in another bungalow, Alan was expected by Richard who had also a surprise for him: his death with a crossbow, impaling him on the wall next to hunting trophies. After that he kill Della, richard was welcomed by all his friends in the other bungalow. Ironically, the secret affair between Alan and Della was just to organize a surprise party for Richard for to announce him that she was pregnant.
Behind the Scenes
Edit
He was portrayed by Paul Lieber.
Paul Lieber was a guest star in Dallas with Gerrit Graham (Theodore Carne), Kathleen York (Coralee), Britt Leach (Joe (Pawnbroker)), Burke Byrne (Mack), Matthew Faison (Doctor (Only Sin Deep)), Troy Evans (Al), Earl Boen (Mr. Clayton), J. Patrick McNamara (Thorne), Don Hood (Sebastian Fleming), Chelcie Ross (George Yates), Teddy Wilson (Clyde), Colleen Camp (Mildred Korman), Abel Franco (Bushmill), Lewis Arquette (Ernest Feeley), Stefan Gierasch (Mr. Sickles), Kenneth White (Sheriff), Dorothy Parke (Sam), Mike Simmrin (Theodore) and William Franfather (Mr. Colbert).
Community content is available under
CC-BY-SA
unless otherwise noted.